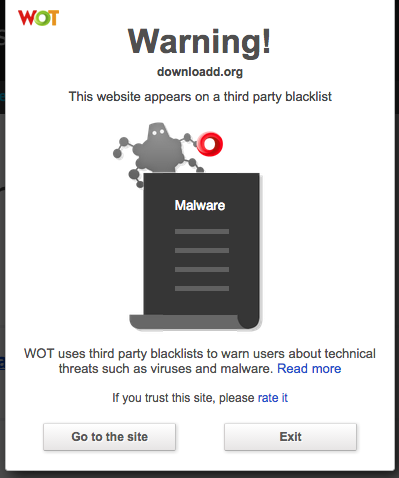 In Tip # 4 – Stop Using Yahoo we previewed search results from that website, the top results being ads that give us adware and cause problems with the computer.
Business systems should have web monitoring software installed to prevent access to these sites. We will discuss in a later tip blocking known malicious websites at the DNS level.  For those that do not (please consider getting it) and for home users, here is an added layer of security – WOT.
The above image is from WOT (Web of Trust), an ad-on extension available for all mainstream browsers here:
https://www.mywot.com/en/download
I had clicked on the 2nd Yahoo search result attempting to download Google Earth.  WoT informed me before the page loaded that this was a blacklisted site, and gave me the option to proceed if I chose to ignore the warning. I decided to take their advice and by clicking on exit closed the page.
Be safe.  What are you doing to prevent access to malicious sites on your network?
It's Cyber Security Month! 31 security tips in 31 days brought to you by Bandon IT, Managed Solutions Provider.